Uncharted Realms – Hunters of the Shadow Sea
Kickstarter Late Pledge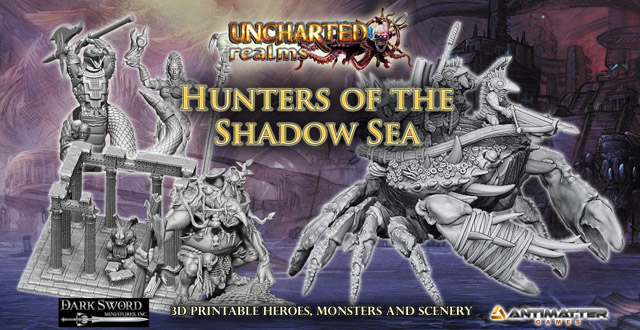 The Kickstarter project has been funded successfully. However, some people may not have been able to add to their pledge in time, or missed out in pledging entirely, so to take care of those folks we have a Paypal payment button set up below. 
Existing backers can add anything they like to their current pledge or increase pledge levels based on the price structure from the kickstarter project (Kickstarter Link). However, note that Early Bird pledges are not available. New backers can take the Late Pledge options below to get the same rewards as shown on the kickstarter project page. Any backer can choose to add items from the add-ons list, with STL and pre-printed resin and some cast resin as possible choices.
Shipping for Cast Resin and Pre-Printed
If a backer chooses to add pre-printed or cast resin models to the pledge, there will be an additional shipping cost. We calculate the costs through USPS at the time of shipment and it is paid through Paypal before the shipment goes out. We will contact backers after the models are cast to get their address and determine shipping costs and production times. For most rewards of a few miniatures, we ship using a padded envelope to save on shipping costs, with the models in plastic clamshells. Large models are boxed. Minimum values for shipping are $5 for a single 30-50mm tall model in the US and $15 to the rest of the world.

Pledges
Pledges and pledge adjustments are is made via paypal by pressing the "Pledge" button below and paying the amount needed to pay for the pledge adjustment or Late Pledge from below. AntiMatter Games will then email the backer to work out the list of items and finalize shipping costs (if needed) using USPS calculations. Shipping costs will be paid at the time of the shipment.
| | | |
| --- | --- | --- |
| | | Add the total amount to the pledge window to the left. We will contact backers after the pledge to finalize the list of items. For those with current Kickstarter pledges, you can add the amount for pledge adjustments. Late pledges and add-ons can be taken by paying the value shown in the lists and photos further down the page. |